So my next question is this: How do you feel about your finances right now?

If you are like most self-employed artists, you are probably struggling to make ends meet. Every month is a constant battle to come up with enough money to cover the rent, phone bill, car note, utilities, credit card bill, and of course all of those unexpected expenses that life seems to throw your way.

Your artistic career has taken a back seat as you bounce from gig to gig in a never-ending cycle to keep the bill collectors at bay.

Does this sound like you? Wouldn't you like to create without the pressures of coming up with the cash to cover next month's bills? Wouldn't you like to put the music first? After all, you are an artist, right? Shouldn't you be creating? If this sounds like you, please read on because I have been exactly where you are and I have some great news for you…
This could be the most important site you visit this year...
As you all know by now, making ends meet as a self-employed artist is no easy task -- especially because your income fluctuates wildly from month to month. You always seem to be playing catch up. For this reason, getting your finances in order can be a daunting task, but I have some powerful wealth- building inside information to share…
I am a successful musician, producer, and recording artist, who has been prospering in the music business for over 18 years. However, in college I studied Electrical Engineering, and upon graduation I worked for 4 years in corporate America (i.e. the "real world"). This is where I picked up the inside scoop on how folks in the "real world" financially prosper.
In corporate America, there are all sorts of 401K's, pension plans, health-care plans, and retirement plans to help you reach your financial goals. They basically come with the job.
In contrast, nothing is automatically in place for you as you embark on a career in the arts. You have to set it all up yourself. And if you don't, you can quickly find yourself falling behind in all of your creative and financial endeavors.
I set up this site because there are few books that apply the basic techniques of investing and wealth building to the unique needs of the self-employed artist.
In writing this book, I sifted through the overwhelming amount of information available about investing to provide a practical and understandable guide to wealth building tailor-made for the self-employed artist.
And best of all, you don't have to have a lot of money to get started! If you are truly serious about getting your financial house in order, then the only tools you will need are determination and tenacity.
I am talking about my e-book entitled:

"Money Magic for Musicians – financial help for the starving artist."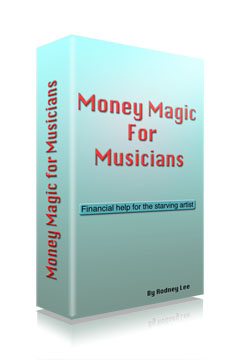 Note for all artists: Don't let the title dissuade you. Since I am a musician, many of the examples in the book are naturally based upon my experiences. However, self-employed artists of all disciplines should be able to easily recast the examples into a meaningful light. Therefore, other self-employed artists such as dancers, poets, jewelers, painters, actors, graphic designers, web designers, and photographers can all benefit immensely from the information in this book.
The current state of our economy makes the importance of responsible money management all too clear. To be sure, this is NOT a time to be racking up debt.
And for too many artists, a recession is all that is needed to send them running to the relative safety of day jobs. Sadly, many of these artists will never recover, and that day job will become THE job.
Wouldn't you like to be an artist who is recession proof? "Money Magic for Musicians" (MMFM) will provide you with the secrets to building a financial safety net under your career.
By applying what you learn in MMFM to shore up your financial ship, you will be able to ride the ups and downs of economic waves while keeping your head above water.
What are professional musicians saying about MMFM?...

"Rodney Lee's "Money Magic For Musicians" is a must have survival tool for every artist. I wish I had this information when I first started out because I got myself into a financial mess during those fledgling years. If there is one thing I am sure about is that most artists expect to achieve fame and success overnight and with that in mind, every one of those artists justifies NOT taking care of business.

Here's the real truth: success is a process. If there ever is a windfall, trust me, the tax man cometh!! So take care of business now whether you are making a dollar or a million. It is all relative and you can get hurt at whatever level you are at. Get this book, it will show you the complete roadmap. But more importantly, DO IT NOW!"
--Chris Standring Recording artist

Who can benefit from this knowledge?
Believe it or not, this book is invaluable to ALL self-employed artists in ALL phases of their careers! I know that seems impossible, but check it out:
-- If you are just starting out, then MMFM is crucial to your development of wealth building money habits long before the financial pitfalls of life arise.

-- If you have been working for a few years but not feeling like you are prospering, then MMFM is exactly what you need to get on track. By prospering I don't mean the accumulation of consumer goods like cars, clothes, equipment, a high-rent apartment, or an extravagant lifestyle. I am talking about real assets like money in the bank, and a lifestyle that allows you to accumulate more of it!
--If every year you find yourself deeper and deeper in debt, then MMFM (along with will power) will get you back on the road to prosperity.
--Even if you have huge success, MMFM is essential to making sure that you keep some of the money that you've made. The techniques learned are applicable whether you make $15,000 in one year or $2 million.
--If you have been working for 20 years and feel like you have very little to show for it – it's not too late to turn things around! MMFM is just the remedy you need.
MMFM is essentially a financial handbook for your entire artistic career. However, the absolute best way to benefit from the knowledge is to apply it immediately and don't stop for the rest of your life!!
In this thorough e-book you will learn all of these essential wealth-building techniques:
Learn my 9 Axioms of how to become financially independent, and therefore creatively independent.
Learn how to create a monthly budget that allows you to save money. This is the first step to freeing up your creativity.
Learn the basics of saving and investing for the future that I learned while in corporate America, so that you don't end up broke in your later years. I'll show you how to get your retirement on track with simple steps that you can take TODAY.
Learn how self-employed artists should handle their taxes so that you can stay out of tax trouble. Note: If you achieve any success in the entertainment world, unpaid taxes will be your downfall if you don't get it right!
Learn how to use credit cards responsibly and how to avoid the many traps the companies use to legally extort money from you. I even show you the inside scoop on how to take advantage of those "Play Now, Pay Later" offers from major music chains like Sam Ash and Guitar Center.
Learn how to get out of credit card debt. I will show you the steps to take to get back on the road to prosperity.
Learn about the essential insurance plans you will need to protect what you have now and hopefully all that is coming your way in the future.
Learn the many advantages of keeping your credit clean. Clean credit is the self-employed artist's best friend. It will save you tens of thousands of dollars over your lifetime.
Those artists who decide not to bother with getting their financial house in order risk a great deal: constant cash flow problems; a retirement solely based upon Social Security--if it is still around; creativity that is stifled by financial burdens; potentially severe financial setbacks due to unforeseen health issues; the accumulation of debilitating credit card debt.
A pop superstar chimes in ...

"Musicians often struggle because they either don't know the right questions to ask until it's too late, or feel too intimidated when sitting down with business managers and accountants. Everything I know, I learned on my own, even while paying big bucks for advice. You've got to be smart. No one likes talking money management or finances. Rodney Lee has put together a practical and informative guide."
--Jody Watley, Grammy award winning multi-platinum recording artist

In addition, everything you are going to learn is crucial to thriving in our current troubled economy…
The current recession has everyone worried about the future. Many wonder if now is the right time to be investing in the stock market. However, no matter what the economy, long term planning will always be the key to prosperity, and living paycheck to paycheck is the recipe for financial disaster. MMFM is all about saving and long term investing, and it has nothing to do with attempts to time the market.
For the average investor, all stock investments should be considered long term – at least 5 years or longer. In other words, it is not considered wise to invest in the stock market with money that you might need in the near future.
Therefore, the question to ask yourself is this: "Do you think that the economy will turn around before you retire in the next 20 – 40 years?" My answer is that I certainly hope so! Otherwise, everything is going down the tubes!
Finally, if you just think that the current market is too unstable, you can still use MMFM to get your finances in order and put your savings into a simple savings account while you wait for the economy to begin to recover.
Why should you take notice?
First of all, you'll be learning from someone who has applied these techniques successfully for over 17 years -- and more importantly, I am a self-employed artist just like you. In addition, my experience in corporate America makes me uniquely qualified to hip you to what goes on in the "real world" in terms of retirement planning and wealth building.
In my opinion, success in the arts is not all about becoming a huge household name. In fact, that's not what it is about at all. I believe it's about carving out an artistic existence that is meaningful to you.
We have all seen episodes of "Lifestyles of the Rich and Famous" or more recently MTV's "Cribs". What we don't see is that many of these stars actually lose those fancy cribs when the fame subsides and/or due to unpaid taxes.
Success, therefore, is something that you should define for yourself. It has nothing to do with how many cars are parked in the driveway. MMFM is all about how to create a life long career in the arts – one that allows you some degree of creative freedom while simultaneously prospering and building wealth.
Over the years I have been able to create a career that allows me to record my own solo projects, tour as an artist and sideman, score films and TV shows, and produce other artists. Am I a household name? Absolutely not. But I am still prospering in the business long after many of those folks you have seen on "Cribs" have disappeared. And that is precisely why you should take notice!
MMFM will give you the tools to prosper even through the current tumultuous times of the music biz…
Everyone knows that the music business is struggling, and with such an uncertain future, what is an aspiring artist to do? Get busy creating and get busy saving! Don't waste time worrying about the fate of the industry – instead focus on those things that you do have control over such as your songwriting, your playing, and your money.

It is now more important than ever to get your personal business together so that you can take advantage of the new technologies that are available to artists – especially the Internet. Many artists are discovering new paths to success without major label assistance, but lasting success will always depend on how well you manage the money. And you can't even begin to think about recording your own CD without first saving some money for the project.

MMFM is the perfect companion for the new DIY artist. You are working extremely hard at your career – why not make sure that you keep some of the money in your pocket?
What's so special about this book?
--MMFM takes full advantage of internet technology to provide you with a reading experience that can not be duplicated in print. If you read MMFM while online, you can instantly access the links and the financial calculators. As an example, while reading the chapter on credit cards you can simply click on the link to the credit card payoff calculator, enter your details, and immediately see where YOU stand. In fact, you can give it a test run now! Click here and try it out.

--MMFM is a fun read with examples pulled from my 18 plus years in the music business. And most importantly, the examples are pertinent to self employed artists of all disciplines.

--MMFM is green. Since this is an ebook, no trees will have to be cut down for you to acquire this information. The ebook is a PDF file that is readable by all computers with Acrobat Reader software. If you do not already have Acrobat Reader installed you can download it here -- it's free


--And I have saved the best feature for last: Once you have purchased MMFM, ALL FUTURE UPDATES ARE FREE!! This is something that is simply not feasible in print media, but the ebook format allows me to offer it. Whenever I make a major update to MMFM, I will email you and you will be able to download the latest version for free.


Another testimonial from a successful working musician...

"Long awaited and highly informative! All the information needed for the young ( and old) musician to start and continue a profitable career.
This is a book you will continue to use as a reference or guide to your career"
--Ramon Yslas, percussionist, has worked with Christina Aguilera, The Backstreet Boys, Brian McKnight, Patti Labelle, Juan Gabriel, and many others.

Make Music…Make Money…Save Money…Build Wealth
A career in the arts should not mean a life of continuous financial problems. You can in fact be a musician AND prosper!
On a higher more philosophical level, I have listed below what you will gain by reading and applying "Money Magic for Musicians", and why I am convinced this wealth-building book belongs in your hands:
Increased focus on what matters most in your creative life -- The Music!
Escape from the old adage that you have to 'suffer for your art'.
Increased knowledge of how to take advantage of the powerful investment opportunities that are available to the self employed.
Development of an entrepreneurial mind towards your artistic career.
…And you can get started today!
In the world of building personal wealth, the sooner you start the better. That's the cool advantage of an e-book – you can download it in minutes and get started right away!
Therefore, you will quickly learn the compelling reasons why saving for retirement is something that you should start TODAY. In fact, your entire creative life depends on it. The simple techniques discussed in this book will help you avoid the typical financial pitfalls that befall most artists.
Now I want you to imagine this: A few years have passed, and you have been diligently applying everything that you've learned from this e-book. You discover the following:
You check your savings and there is money in there!
You check your credit card statement and the balance is zero!
You check your retirement account, and there is money in there growing tax-free!
You truly have a sense that you are in fact prospering!
You are no longer concerned with your bills next month because you are living at least 3 to 6 months in advance.

Now imagine the creative freedom this will give to your art.
Finally, stop and look back on today. What price tag might you have put on the information that lead to such creative and financial freedom?
And keep in mind that this is knowledge that will last a lifetime, in addition to the fact that all future updates to MMFM are 100% free!
Well I thought about this long and hard and arrived at the price tag of $25.
However, I have decided to reduce the price to make it affordable to anyone who is serious about having a prosperous career in the arts!
For a limited time, I want you to have the powerful "Money Magic for Musicians" for $11.99
Your 'Nothing to Lose and Everything to Gain' Guarantee!
| | |
| --- | --- |
| | When you buy "Money Magic for Musicians", I personally guarantee that your finances will take a turn for the better. Otherwise, I will refund you 100% of your purchase. Since this is not a get rich quick method, you must seriously apply the techniques learned in this book over the course of at least one year in order to be convinced that it works for you. If you are not completely satisfied at the end of a year, then I will give you a full refund...no questions asked. I make this guarantee for the 99% who are honest, (but naturally skeptical) – not the 1% who will take advantage of me. |
You can download "Money Magic for Musicians" instantly with an easy PayPal transaction. The e-book is a PDF file that will allow you to get started within minutes.
Don't forget, order the e-book now for just $11.99 and save! This offer won't be here forever.
Sincerely,

Rodney M. Lee
P.S. It will cost you very little to take your first step to leading a prosperous creative life. Order your copy of 'Money Magic for Musicians' today!
P.P.S. If you are still not convinced then at least do yourself a favor and sign up for my free quarterly newsletter, and I will send you the chapter on Credit Card Fundamentals for FREE!! Get more info here.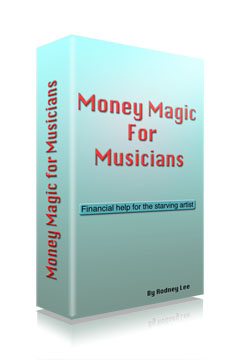 ORDER NOW through our secure server (PayPal)

Money Magic for Musicians -- $11.99



You will need Acrobat reader installed on your computer to read the PDF file. Most computers come with this software pre-installed, but if you don't have it, you can easily download it for free here.
Disclaimer
This e-book is designed to provide good reliable information regarding the subject matter covered. However, it is distributed with the understanding that the author is not engaged in any legal or professional advice. The author and publishers specifically disclaim any liability that is incurred from the use or the application of contents of this book. Investment recommendations are not intended to be construed to be personalized advice, or recommendations to buy, hold, or sell mentioned securities and readers should consider their personal situation before making any investment. The information contained in this book is provided for general informational purposes, and is not a substitute for obtaining professional advice from a qualified person, firm or corporation familiar with your personal circumstances. Please seek the advice of professionals, as appropriate, regarding the evaluations of any specific security, report, opinion, advice or other content.